I don't write that much about the games I play, partly because there's just not a lot of change there. I tend to grab onto a game, or at least a genre, and stick with it for a good long while if I don't burn out and get bored quickly.
What I've been playing for the past several months is Dirt Rally 2.0, Noita, Bejeweled 3, and (in the past month-ish) Guild Wars 2.
Dirt Rally 2.0 is currently doing its second World Series event, in both rally (on trails) and rallycross (on a mixed-surface gravel/asphalt track) categories. The finalists will compete for a $20,000 prize pool, and the rallycross winner also gets to test-drive a real-world electric car that'll be used in the new eRX2 rally category. But everyone who participates will unlock a car in the game, so that's nice.
I'm not a serious racing simmer, I'm a filthy casual who plays with an XBox controller, "bonnet view" (outside the windshield in the center of the car), and usually with automatic transmission enabled. I had low expectations going into this. But I'm very happy with coming in just below the top 10% overall, so I guess this post is a brag of sorts.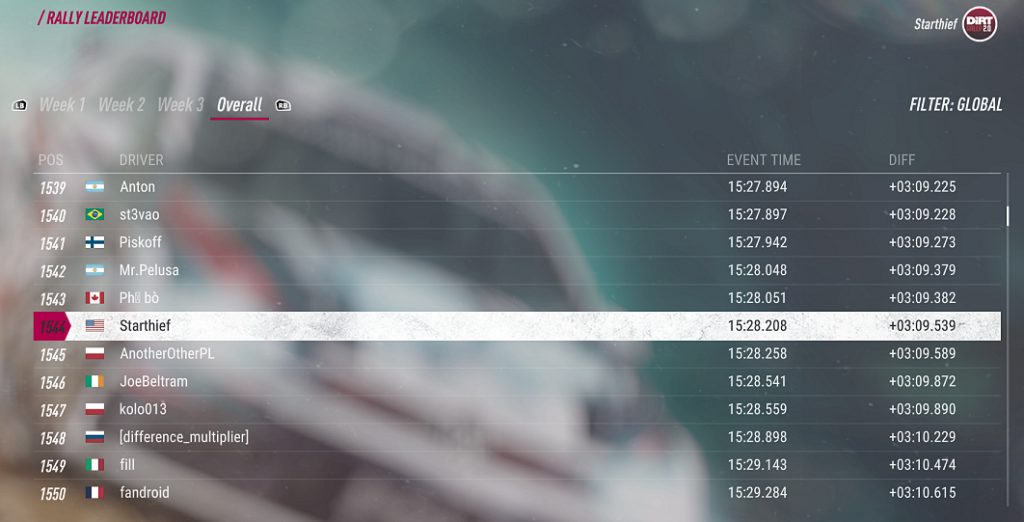 That still puts me a few light-years away from any sort of prize, as each qualifying round will take only 6 drivers in the final and send two of them to the semi-final. But hey, I don't completely suck at this game after putting in (according to Steam) 261 hours in it 🙂
I did much less well in the Rallycross qualifying, squeaking into the top third. But then I don't find rallycross as much fun to drive as roads and trails that go somewhere, which is a bit reminiscent of the off-roading I used to do with my dad in the 80s, with (at various times) a rail buggy, go-kart and motorcycles. Just a lot faster than we ever used to go 🙂