My Ancestry.com ethnicity estimate has been updated again, as it was in mid-November last year. Here's what it said before: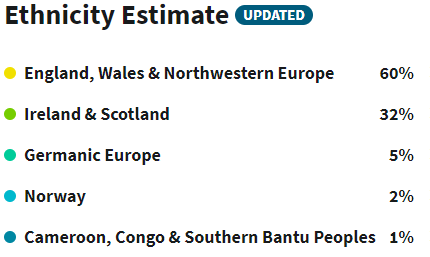 And here's the new version:
However, in the details it does say that Scotland could range from 7%-43%. Most of the rest are within a few percent one way or the other.
DNA and statistics both being what they are, adding more data to the pile and re-evaluating everyone doesn't necessarily make for a more accurate assessment for any specific individual. Mostly this is just a bit of fun.
---
3/4 gaffer tape covers the ugly graphic strip on the Microfreak just fine. The downside is, it looks like there's a piece of tape on the synth. It'd be nice if there was something a little more professional looking. But really this is just splitting hairs.
---
I've decided to let go of the Lyra-8. I like the way it plays, but it is fairly rigid about the way it sounds, and I'm just not into it anymore.
The most likely replacement is the eowave Quadrantid Swarm. Like the Lyra, it has 8 touchplates for oscillators that can be individually tuned. But instead of the organ oscillators, it has digital oscillators with different shapes and a unison mode, two analog filters in series, a spring reverb and a sequencer. It's semi-modular and can also accept MIDI input as well as its touchplates. From the few demos I've seen on YouTube, it has a really nice wide range of sound character and should fit right in.
I've put some thought into other options, such as the Moog Subharmonicon or Dreadbox Nyx, but I think I've convinced myself that the QS is what I want to run with. I do want to sell some gear before moving it in, though.