Reading about the history of synths, or about the use of synths in rock, one always comes across worshipful descriptions of Keith Emerson's "Lucky Man" solo and the Moog Modular he took on tour to perform it.
I never really bothered to check it out. I don't think I ever heard the song, or paid attention if I did. But I took the authors at face value: that this was a blistering, awesome performance that was part of the pincer maneuver which made Moog more or less a household name and doomed Buchla to relative obscurity (Switched-On Bach being the other) and that Emerson was a master both of modular synthesis and rock performance.
My curiosity was finally prompted by the MST3K riffing on Monster A-Go Go which made references to both "Fly Like An Eagle" and "Lucky Man" during a particularly synthy part of the soundtrack.
So I watched a couple of videos, and… well. Maybe a rock fan in 1970, having seen nothing like it, would have been blown away. But the first thing I noticed is the patch is really, really simple. Five years later he could have been playing that on the one-oscillator Micromoog. At the time, he could have pulled out 95% of the patch cable spaghetti draping the thing. Sure, it had an impressively powerful bass sound which Emerson made good use of, but there was nothing very sophisticated about the patch. The synth was mostly serving as a prop. "Look at all this equipment and all those cables, this guy must be a wizard!"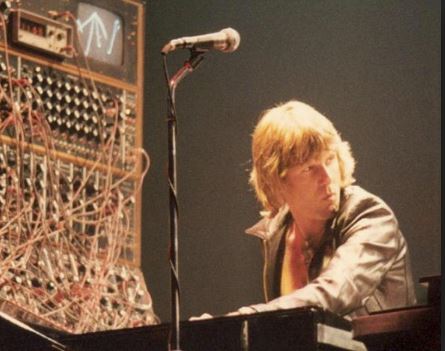 (I'm not disparaging Emerson's synthesis skills — maybe this is the exact sound he was going for. Maybe it was set up for a quick between-songs repatch to do something completely different; pull one cable here and plug one in there and it's ready to go. But I do think a lot of it was for show.)
The second thing is, the timing was really sloppy, at least in the performances I watched. Particularly in a more recent performance, there was a slow portamento and I wonder if that's throwing off his playing, because he's just not playing to the tempo of the rest of the band. It didn't feel like expressive timing but just bad timing. Otherwise, what he played was… okay, but not the most acrobatic or virtuosic or creative solo I've ever heard by any means.
So, yeah. I guess this is just one of those cases where the historical context was the fuel and the art was a spark; with the fuel burned out we can see that the spark was a small thing.