I decided it would make some sense to do some of my studio rearranging in advance of having the case ready: the scary part where I move the power and audio interface out of the desktop rack and into their 2U studio box, and hope I don't break or lose anything, all the cables still reach, and everything works.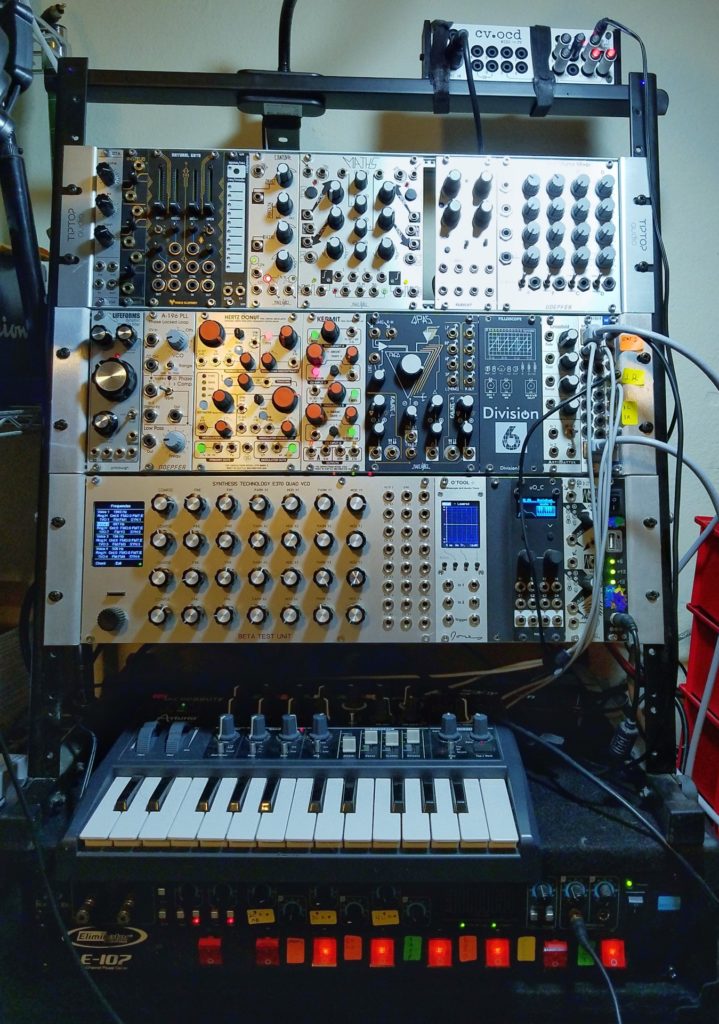 …et voila. There's no longer any "ceiling" to the desktop rack preventing stuff from falling in, and things are a little awkward for the moment. But aside from leaving the pedals disconnected for now, it's all up and running. The Mantis is back on the desk instead of perched on the shelf, for the few more days until everything moves into the MDLRCASE.
There's not quite enough space in front of the 2U box for the Microbrute, though if I invested in some right-angle cables for its rear it'd be close-ish. So I think in the new configuration it'll just stay atop that new box. That way there's a couple square feet of space in front of the 2U box to use as an actual desk, or for small controllers etc.
My hope is to put the new Eurorack case on the right side. The shelf I've got there now is a little too short to work with it, so that's either getting swapped to the left — mounted on the back, jutting out toward my head — or getting repurposed elsewhere.
The pedals are still a question. I had hoped to put them atop the Euro case, but it's about 2.75″ front-to-back up there and that's not a lot. Perhaps I can rig up a slightly deeper shelf with rubber feet to sit atop that, for the pedals to perch on — but I worry if they're not secure they could come crashing down on top of my modular. So maybe they're going to the left side.
To make a little more clearance for the Euro case I've got a smaller pair of computer speakers on the way — I always use headphones for music production anyway, so they're really just for games and movies. And now I just realized I forgot to get the adapter cable I'll need for the audio interface.