I've shared this recording elsewhere, so why not here?
Plaits in waveshaping mode (with an LFO over the level) feeds the audio input of Rings in inharmonic string mode, which feeds the ER-301.
In ER-301 channel 1, three Schroeder allpass filters in a feedback loop are manually controlled by a 16n Faderbank. In channel 2 there's just a grain delay in a feedback loop with its time manually controlled. There's a bit of cross-feedback.
The two channels are recorded as mid-side stereo, and some ValhallaRoom is applied.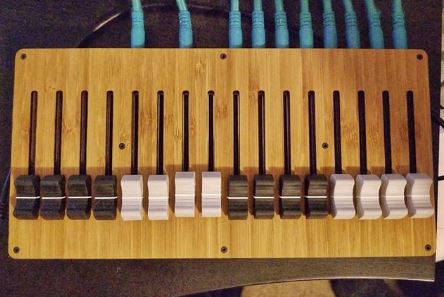 I'm really enjoying the 16n Faderbank as a controller for all sorts of things. In another recent recording, I used it to control levels in Maschine over USB MIDI, as well as the levels and timbre of a harmonic oscillator in the ER-301. In this one, constant manual micro-adjustments of the allpass filters prevented the feedback from building up into something piercing and unpleasant, and changes in harmonic content were a combination of tweaking Plaits and Rings as well as the filters. The impression I get from this piece is light refracting off the curved surface of some mysterious alien artifact, perhaps… which might have been better title inspiration than what I chose. Ah well.
---
I'm reading A Study In Honor, a novel set during a near-future civil war. A post-Trump leftist government implements universal healthcare, guarantees LGBT rights, and does much for racial justice and income inequality and so on — and then radicalized right-wing idiots are so upset about it that some states start a war, and federal centrists are in the process of eroding rights and breaking the economy again to placate the crazies. Our protagonist is a wounded veteran of that war, a queer woman of color who suffers from PTSD, a poorly fitting, irritating, poorly functioning prosthetic arm that the VA won't replace, and fresh waves of alienation. Needless to say, this has not been a happy story so far. It's well-written and gripping, though.
So with that bouncing around in my subconscious, last night the infamous Shitgibbon-in-Chief actually appeared in my dreams. This cartoonish con man has been a mental health threat to the entire country for the last 30 months or so, but up until now he's avoided direct appearances in my brain at night. Well… he's officially banished.