There are some module brands which can instantly create a holiday atmosphere among Eurorack geeks by announcing a new module. Mutable Instruments is one of the prime ones.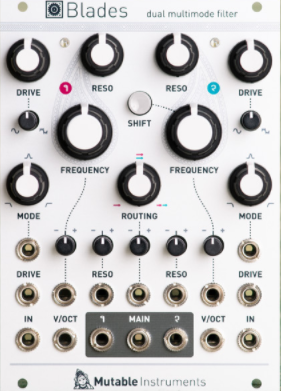 I did not see this coming at all. I had misinterpreted a previous hint and expected another successor to an existing module. But it's a pleasant surprise!
Yes, I already have three Eurorack filters, which seems odd for someone who claims to not use subtractive synthesis all that much, and yes, I ordered this one too.
The cool things about this one are the continuous blend between lowpass, bandpass and highpass configurations — which, when oscillating, allows phase modulation. And the routing between the two filters, from single to parallel to serial, is also smoothly controllable and can be used as an input mixer. And the drive sections are smoothly adjustable from overdrive to wavefolding. And a button switches filter #2 to follow #1's frequency but with its own offset, making variable-width bandpass or notch as well as harmonically tuned resonant peaks/oscillation easy.
In a sense, this is not just a dual filter but an analog complex oscillator, and those are magic words to grab my attention.
I think my protest about subtractive synthesis is a little misplaced. There have been several times where I used both Angle Grinder and VCFQ in stereo, mid-side, or serial HP/LP configurations. Or Angle Grinder as an oscillator, and VCFQ and Shelves in stereo… and so on.
My plan at the moment is to keep all these filters around, unless there is something specific that really calls to me more later. (More on that when I write up my goals for 2021.) VCFQ has a lovely sound to it and its pings are very nice. Angle Grinder of course is a great oscillator and weirdness maker. Shelves… is not quite what I expected but can be patched in some surprisingly cool ways, and it's very possible it will make sense to pair it up with Blades for even more serial/parallel goodness.
---
The other bit of modular fun is Mystic Circuits Portal, which arrived yesterday. It claims to be "harmonic distortion" but what it is is a glitchy weirdifier, yet more useful than I first thought. The idea is it's like a wavefolder but wraps instead of folding — but the "track" parameter causes it to crawl along and add motion in its own unstable way, enough so that with no input it can still burble and tick and hiss and sputter. And it also seems to pick up and amplify noise and exaggerate small motions in the DC range.
The second output is a sample+hold of the input triggered whenever the main part folds, and that includes the crawly motion so it's this cool animated sample rate reduction effect.
The third output sends quick little triggers whenever the main part folds, and those can happen frequently enough to make a buzzy oscillation of their own, or with the feedback setting, act as a crazy little burst generator. I'm looking forward to trying a few experiments with this.
It's a weird module to be sure, not something to use in every patch — but I feel like I have slack since all my actual needs for the music I make are well covered. So why not have something odd, unpredictable and sometimes inspiring in there?