Today ends my 8th week of working from home (more productively than I ever did in the office), and about 11 weeks of COVID-19 being something to worry about in the US. St. Louis County is opening some businesses on a limited, restricted basis but so far, it looks like we're going to keep working from home. Given news about other places having spikes in cases and having to close back down again after reopening, it could still be a while.
Given events, maybe the Stormlight Archive wasn't the best thing to read. I'm most of the way through Oathbringer now, and it's an apocalyptic mess of magical extreme weather, war, monsters, betrayals, and all the major characters being completely traumatized, broken and lost. It is a really entertaining set of books, with bright spots of humor and insight and triumph, ridiculously epic worldbuilding, the gamut of lovable and hateable characters, etc. but there's no doubt that it's a tragedy (even if, 7 books from now, some remnant of humanity is probably going to survive). "Heroism" and ethics are largely a matter of perspective. There are times when the story goes shockingly dark.
---
Google Play Music, which I've been subscribed to since 2014, is also going dark in the near future. I happened to be prepared for it though — my New Year resolution to support musicians through Bandcamp, and having a phone with plenty of storage, has meant streaming much less and listening much more to my MP3 collection. I gathered a list of albums that I want to make sure I own, and cancelled my subscription.
Unfortunately not every musician is on Bandcamp, and for some of those albums I've had to track down CDs on eBay. I've got a collection of CDs that I really should at least rip some of, and when I traded Eurorack modules with Kid606 he generously sent a couple of CDs to me. I wound up buying an external DVD drive rather than continuing to bother Alisha to rip them for me and transfer via USB stick (because Windows LAN networking still sucks in 2020). Chances are, any computers we might buy in the future won't have optical drives built in anyway.
My MP3 collection is about 25 years old and has 840 (!!) artists in it. There are some-hundred CDs in my collection that spans roughly 1990-2005. I certainly don't plan to rip all of them, but there'll be a bunch. So I'm thinking: I'll set up a personal streaming server with a rating system, or else cull the collection a little so there's an archive and a "live" collection, and stop having to copy the whole collection to three different devices.
---
Two modules arrived this week. The Disting EX, previously described, is a bunch of different utilities in one module. The improved display is TINY and a challenge for my poor eyesight, and I rearranged modules a bit to bring it a little closer to my eyes and hands. But still, the module is easier to navigate than previous versions, and I think a dozen or so favorite algorithms won't require much referring to a cheat sheet or online reference. I've encountered a few bugs, many of which will be fixed in the next firmware release.
I've got i2c commands from the Teletype working with it, although it doesn't support slew, which is going to limit the matrix mixer morphing I thought might be particularly special.
The algorithms I like most are different from the set I originally liked, with more of the basic building blocks (like comparators and sample-and-hold) and fewer oscillators and effects. There are still some "macro" items though, like a pitch and envelope tracker and a wavetable-based waveshaper, that are pretty special.
The polyphonic multisample player is cool, if kind of mind-bending in Eurorack. Not something I'll probably want to use frequently, but like everything else on the Disting, it's nice to have it in reserve for when I do. The Disting can also record samples, and an auto-multisample mode is coming that makes use of the MIDI breakout panel — play several notes on a synth into it, and it will sample them and format it for the multisample player — so I might have to make room for that. It could be kind of neat sampling software synths with it and then playing them back with Eurorack sequencers…
---
The other module is Schlappi Engineering Angle Grinder, and it's glorious.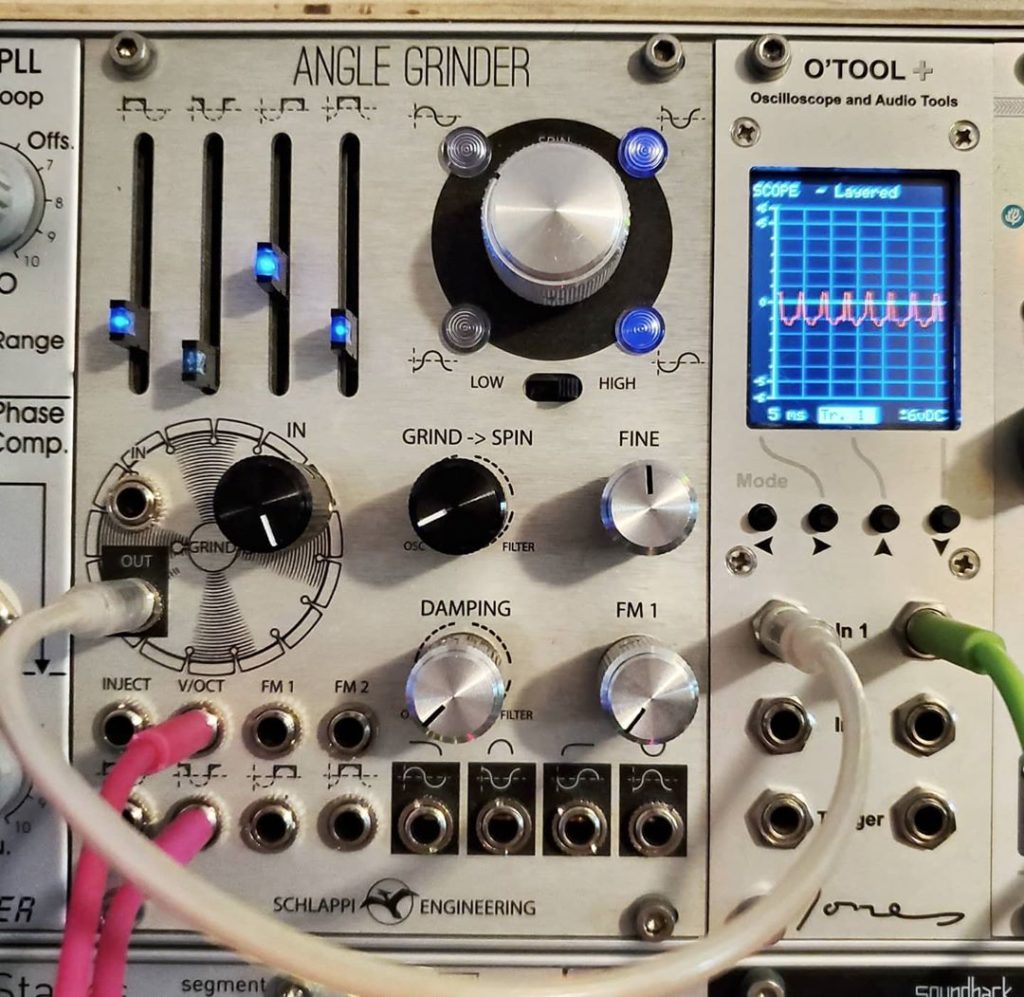 The left side is the "grind" section, a set of four comparators that blast the smooth edges off and add more upper harmonics. The "spin" section on the right is a nice filter/quadrature oscillator. As a filter, it sounds like it has a little bit of a resonant peak even at minimum; it can work pretty conventionally but the highpass and notch sound particularly sweet. As an oscillator it's quite smooth. I feel like I should put in some time exploring what a quadrature LFO/oscillator can do for me, aside from synchronized push-pull on different modulation targets.
The real fun is in the combination. The Spin outputs feed Grind's four comparators and subtract from the input, changing the shape. The output can then feed back into Spin. The bandpass/allpass output from Spin also feeds back into Grind if not interrupted by a different input. The results vary quite a lot depending on whether Spin is oscillating or filtering, and the phase-shifted and clipped feedback results in many different waveshapes and pitch shifting, under CV control.
Overall the thing can range from a conventional filter or sine oscillator, to something with a little more edge, to a weird noise generator that can produce chirps, atmospheric noise, "toy with dying battery," self-pinging filter and other weirdness. The feedback loops make it inherently chaotic, but the knobs control the amount of that chaos. Also, it provides several excellent ways to combine other oscillators to create complex drones.
I do kind of wish it had CV control over the "Damping" (aka reverse resonance) and "Grind->Spin" controls since both can influence feedback. To some extent I could manage that with external VCA(s) and mixer though, if the block diagram in the manual is correct.
I have absolutely no regrets about trading my Filter 8 for this one. In fact, it's so good, I'm considering one of Schlappi Engineering's other modules, the Interstellar Radio. It converts a signal to a high-frequency "radio transmission" and then back, but with different clocks or even external ones, to generate a variety of errors, aliasing and distortion and other oddities. If I let go of my A-196 PLL — which I believe I can do without losing any functionality, because of the Sync3 and Disting's pitch tracker, comparator and XOR algorithms — I'll have room for it. I won't leap too quickly though, and give myself some time to get to know the new stuff.