Sunday it was a lovely 65°F throughout the evening. Monday at that same time, it was 25 and windy and been snowing most of the day. This morning as I'm about to go to work, it's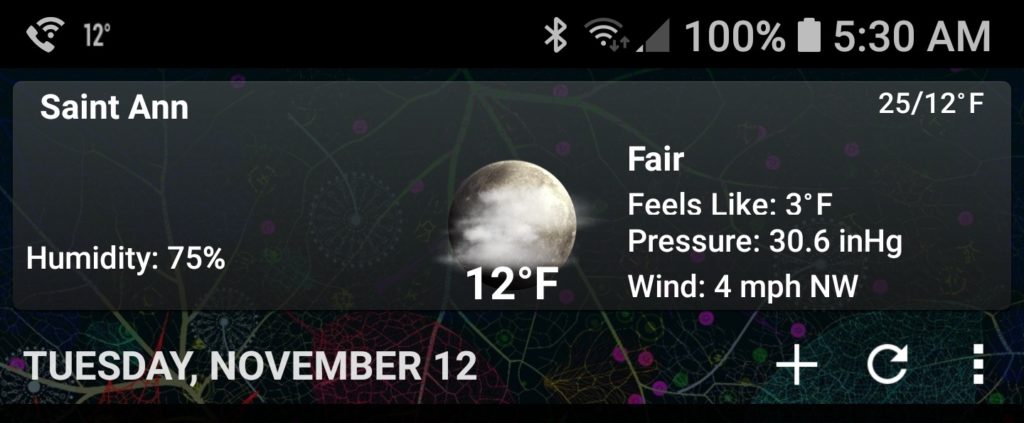 which is just too flipping cold. Autumn is my favorite season, but for the last few years, it's seemed like it was under attack from both sides. Going from picnic weather to parka weather in one day is just too much.
Anyway. Here's a thing I did, a quick jam on the Lyra-8 with another layer of distortion, inspired by the computer game I've been playing quite a bit of lately:
Noita (Finnish for "witch" or "shaman" apparently) is the sort of game where, if I am bad at it, it's kind of hard to tell because so much of it comes down to random luck, impossible situations, and occasionally completely unfair events. Yet usually the most ridiculous sudden deaths even after a long, careful campaign are more entertaining than frustrating. You're a levitating wizard with a couple of basic wands to start with, on a dungeon crawl through increasingly deadly environs. Everything is physically modeled like a "falling sand" game — water flows somewhat realistically, evaporates when heated and condenses again; wood and coal and oil burn at different rates; fire needs oxygen; oil is slippery and floats on water; slime is sticky; sandstone is softer than other rocks. But it also plays like a high-speed magical game of Worms. You find and tinker with more and better (and sometimes ludicrously dangerous) wands and potions as you go: tentacles, arrows, bouncing bolts, chainsaws or flying sawblades (!), lightsabers (!!), freezing, acid balls, lightning, boulder summoning, lakes of lava, Giga Death Crosses, nukes (!!!!!)
Theoretically, there's a way to "win" the game. I've never seen it. I'm lucky to get through the reach the incredibly deadly jungle level with its robotic spiders and fire-flinging flowers, or the Vault with shielded flying drones and acid-spitting floating eyes. Once I reached a place called the Temple of the Art, and got cornered in a pool of acid that was on fire while being pummeled by spells from four different completely unfamiliar monsters.
The game is full of surprises and secrets. Sometimes you do things to "anger the gods" — or a pesky earth-devouring worm does and you get the blame — and they send a flying, shielded skeleton mage to murder you. Sometimes you find mysterious secret tablets or orbs or areas of total darkness or stranger-than-normal alchemy or other weirdness. Once I drank from a "Touch of Midas" potion that turned loose substances (sand, coal, etc.) into gold when I approached; I racked up a lot of wealth but didn't survive to spend it. Just once, I saw this in the Hiisi Base: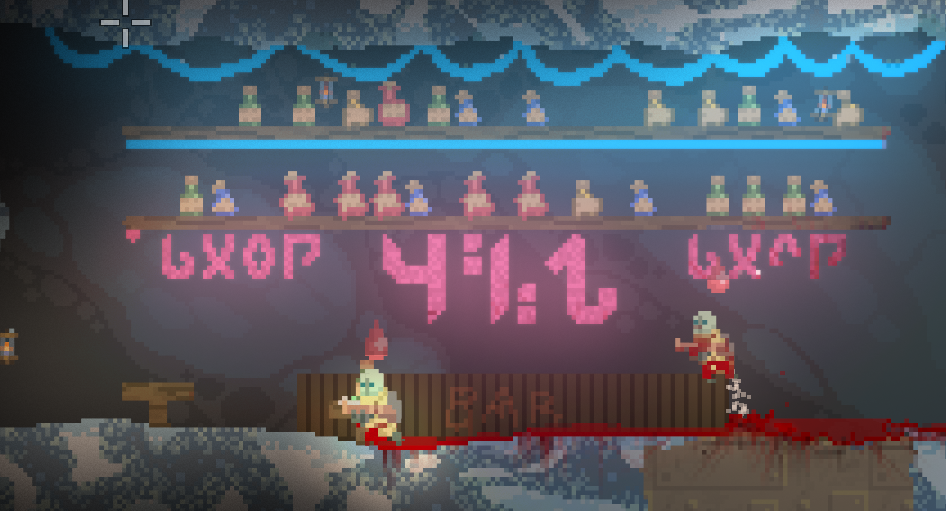 That's my wizard's blood there, because there were about five more of these guys on the other side of the screen. Oops.